Lion's Mane Mushroom Powder – USDA- Non GMO – 100 Servings per Jar – Hericium Erinaceus Fruiting Bodies
$27.95
WHAT IS INCLUDED? One Jar of Namaste Supplements Lion's Mane Mushroom Powder - Also Known As Hericium Erinaceus - This is the more scientific name

WHY CHOOSE OUR FORMULA? Namaste Supplements Has More Value Than Our Competitors - We Include Organic Lions Mane Mushroom! Our Formula Is The First of Its Kind! There Is No Other Mushroom Coffee With Collagen!

OUR INGREDIENTS: Only Straight Up Lions Mane. No fillers. No Starch. No Nonsense.

DOES IT TASTE SHROOMY? Lions Mane Mushroom Powder Tastes Great! It can be mixed in smoothies, coffee, hummus, oatmeal, juice, tea and more! It will not taste like a mushroom!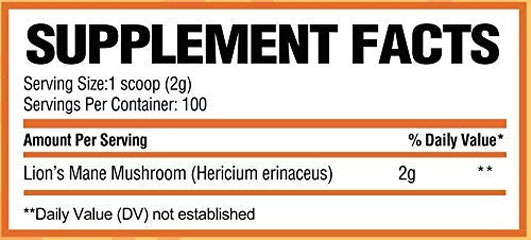 Ingredients: Lion's Mane Mushroom (Hericium erinaceus)
Compare